Surround
yourself
with the
beauty
of the
mountains
and beaches
of the
Monterey Bay

A Time Of Discovery

At Dominican Oaks, you'll discover new and stimulating experiences, as you participate in our wide array of social and cultural activities and excursions. You'll enjoy...
• informative presentations
• travelogues
• movies
• bingo
• champagne socials
• birthday parties and more


Elegant Dining

Life should be a feast, so we pay special attention to your dining experience. Good company and conversation compliment your meals in our elegant dining room. You'll find an exciting variety of fresh, delicious dishes, expertly prepared and served by our helpful, professional waitstaff. Wine is available with dinner.

A Safe And Secure Environment

Your security is assured with 24-hour staffing, state-of-the-art fire protection and features such as emergency pull cords in your bedroom and bathroom. Contemporary medical treatment is next door at Dominican Santa Cruz Hospital and medical center.


Exercise For Your Body And Your Mind
Our regularly scheduled exercise classes, lectures, classes, concerts and discussion groups will stimulate your mind and spirit. Dominican Oaks' wooded setting, moderate central California climate and the nearby ocean are a natural invitation for you to take a walk or enjoy outside activities in our sports courtyard.
Leave Your Cares Behind
Your monthly fee includes an apartment with a deck or patio, meals, weekly housekeeping and laundry service, utilities, regularly scheduled activities and transportation. We also offer on-site banking, a beauty salon and European massage therapy.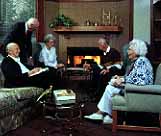 Participation Or Privacy - It's Your Choice
Your life will be enriched as you share experiences and ideas with new friends and become involved in our active community. If you prefer, you may simply luxuriate in the privacy of your own apartment.


Home

The Facilities

Be Our Guest

Activities Calendar

The Apartments

How To Find Us

Contact Us